17th April - Today's News: Webcams Show Iceland Volcano Activity Increases
Well, what can I say. The Icelandic eruption continues to dominate the weather news and is likely to for a while yet. As previously mentioned, upper level winds are swinging round to come down over Britain more direct from Iceland, and with high pressure over us, any ash carried here will stick around - I expect reports of settling ash from all part of Britain by the middle of next week, as well as increasingly spectacular sunsets (yesterday's wasn't that special in my opinion, though there was still a nice red glow on the horizon when I photographed the crescent Moon and Venus: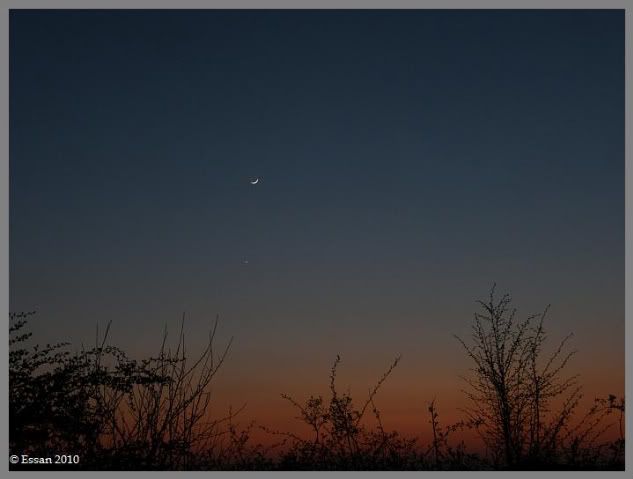 My commiserations to the millions of people around the world whose travel plans have been disrupted by this - in some cases quite considerable. I've seen one report of people due to fly back to Britain from Hong Kong who have been told the earliest they're likely to get a flight now is 6th May! With flights in/from Britain and other parts of Europe unlikely (in my opinion) to resume until next weekend the backlog will be massive.
And it's all the weather's fault! If we had the more usual zonal weather pattern across the north Atlantic, the ash clouds would be blown towards northern Norway and the Arctic and barely affect air travel.
Of course, whilst winds do look becoming more favourable towards next weekend, we don;t know how long this eruption my continue - nor whether it may trigger a much bigger eruption in nearby Katla. More disruption through the year remains very possible, and is perhaps worth taking into consideration when making holiday/travel plans.
UK flight ban worsens
Icelandic eruptions could last for a year and 'second volcano may follow'
And this morning,
Iceland volcano activity increases
. This can be seen on the webcams (excellent weather up there this morning):
http://eldgos.mila.is/eyjafjallajoku...thorolfsfelli/
http://www.vodafone.is/eldgos
And with increasing reports of ash reaching ground level, not just in Britain but elsewhere in Europe,
WHO cites risk if ash descends
. Though personally I don't think I'm going to be ordering a gas mask just yet!
Meanwhile,
hundreds flee flood in Iceland volcano zone
Elsewhere,
as north India burns, Hisar sizzles at 45.3
Tokyo records rare mid-April snow
There are now reportedly
more than 1,000 dead after China quake
Adelaide hit by earth tremor
(or as some reports have it, a 'mini earthquake')
And if time seems to drag, maybe it's because the
earthquake in Chile caused days to be longer
. By 0.3 microseconds.