21st April - Today's News: Flights Resume Over Europe Despite Continuing Ash Threat
After
BA's jumbo gamble
flights have resumed over Britain - and both obvious contrails and less obvious thinner wisps of cirrostratus return to cloud our skies.
However, the
threat of new, larger, Icelandic eruption looms
. And whilst
experts back CAA
, the crux of the problem does - as implied by my headline yesterday - lie with the airline industry. Simply put, because they have never conducted proper tests to determine whether aircraft may safely fly through lower concentrations of ash, the ICAO rules have been, very clear: aircraft must avoid all ash. Hence the blanket flight ban. Interestingly, the ICAO have held plenty of seminars on the subject - including a
volcanic ash workshop
last June which specifically dealt with the risk of an Icelandic eruption affecting air traffic across NW Europe and the Atlantic. I guess the industry leaders were too busy wining and dining and boasting of their incomes the size of a small African nation to care. Heads should roll. Starting with the Chairman of BA!
And personally whilst it's claimed
engine strip-downs establish safe volcanic ash levels,
I remain to be convinced. Exactly what concentrations of ash did the aircraft fly through and for how long? Of course, we'll probably never hear or any subsequent engine damage.
Edit:
why airlines resisted setting safe dust levels for flights
- you know, I'm actually starting to like The Grauniad!
A source at the International Civil Aviation Organisation (ICAO) said of the history of the failure of efforts to agree a safe level: "The bottom line is that there is a huge liability issue for the industry here, so they have been super cautious on providing information. If they say it is safe, and there is an accident, they will get slaughtered."

The organisation has been trying since at least 2008 to get airlines and manufacturers to help establish a consensus on a safe concentration of volcanic ash
Meanwhile, lest anyone claim there never was any ash risk, this story hasn't made the English speaking media yet: the original Dutch news story in de Stentor is
here
and a rough Google translations reads:
Ash on aircraft flight from Belgium after Maastricht

Tuesday, April 20, 2010 | 23:07

OOSTENDE (AP) - When inspecting an aircraft of the U.S. airline World Airways International Airport Ostend-Bruges axes found in the engines.

Reported that the Ostend airport inspection.

The plane landed Tuesday afternoon after a flight from the airport to Maastricht.

The plane is grounded. Whether there is damage, must appear Wednesday after a thorough inspection by a qualified technician.

The aircraft of World Airways was the second aircraft that landed at Ostend. An inspection of the first device was found no ashes.

A second cargo flight from World Airways, which had come from Germany, was canceled after the discovery of ash on the device from Maastricht.
Ash clouds were clearly visible both other southern England and to the west of the UK in photos taken at sunset last night, such as this one I took: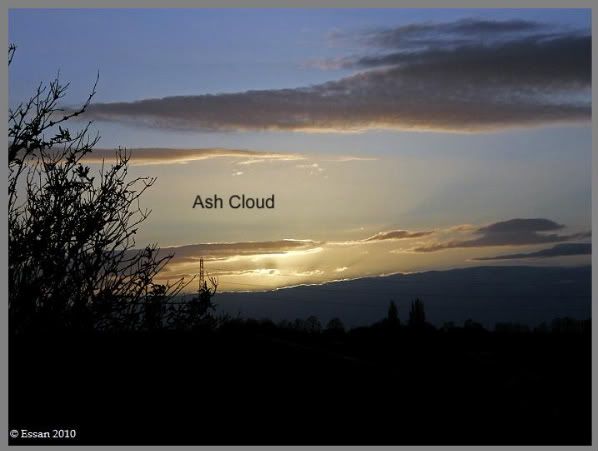 Unless of course it was just smoke from the
hundreds of grass fires reported across South Wales
? Yes, it's bush fire season in the UK - a dry spring (no rain to speak of for a couple of weeks now) invariably leads to a heightened risk of fires amongst the dead, dry bracken and grass from last summer. The risk diminishes as fresh, green, growth appears in May.
Poor weather linked to male cancer
After last October's floods, some good news for those in west Cumbria as
Workington's new flood bridge to open
. Still only a temporary measure though.
In Scotland,
bad winter wipes out 75% of deer calves
- though I'm not keen on describing them as a 'crop'. They're a pest that are suffering from overpopulation (in part due to recent mild winters) and which needed to be selectively culled each autumn/winter.
Tornado, storms whip Nicaragua, Ecuador
And last week in Portugal, a
tornado damages boats, topples trees
- translation
here
Space storms could threaten UK power grid
And any storm chasers delayed in reaching the States dues to the flight restrictions shouldn't worry too much as you've not missed much with the
spring storm season off to slowest ever start
.